---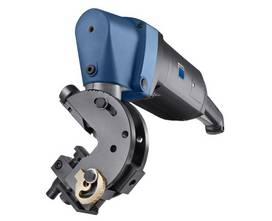 Trumpf TKF-1500 Bevellers
With the TruTool TKF-1500 bevellers you can set the beveling angle progressively between 20° and 55°. Whether you are producing K, V, X or Y angles or whether you are working on straight sheets or T carriers, the result is always even and free of oxide. And the surface only exhibits a slight degree of roughness. The TruTool TKF-1500 is suited for mobile and stationary weld seam preparation. Minimal mounting time thanks to quick release tool fasteners and the long tool service life ensure efficient work.
FREE SHIPPING 
FIVE YEAR WARRANTY (On registered tools per Trumpf terms)
---
Trumpf TKF-1100
TruTool TKF-1100 produces highly precise and emission-free bare metal K, V, X and Y edges. Its chief application is in stainless steel and high-strength steel processing. The edges remain free of oxide and there is no need for seam work.Weld joints can be made both on straight sheets and on tubes, interior cutouts and curved edges. The machine can be positioned in the middle of the sheet. Progressively adjusted bevelling height and tool-free setting of the sheet thickness characterize this beveller.
FREE SHIPPING
FIVE YEAR WARRANTY (On Registrered Tools per Trumpf terms)
---
Trumpf TKF-700 
The TruTool TKF-700 can be used wherever you make K-, V-, X- and Y-shaped bevel preparations. And this not only on level sheets but also pipes. Bevel size and sheet thickness are set without tools and very simply. The tool carrier is turned in one of three defined processing directions. TruTool TKF-700 is our lightest beveller. You can use it manually in vertical, horizontal or overhead position or in a work station.
FREE UP GROUND SHIPPING
FIVE YEAR WARRANTY (On registered tools per Trumpf terms)
---
Trumpf 0088503 
Threaded shank cutter.  Two cutting edges.  Re-sharpenable.
Standard cutter for Trumpf TKF-1500, TKF-1500-1, TKF-104, and TKF-1100
FREE UPS GROUND SHIPPING
---
Trumpf 0089335 
Threaded shank cutter.  Two cutting edges.  Re-sharpenable.
High-Tensile cutter for Trumpf TKF-1500, TKF-1500-1, TKF-104, and TKF-1100
FREE UPS GROUND SHIPPING
---
---